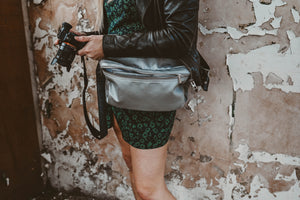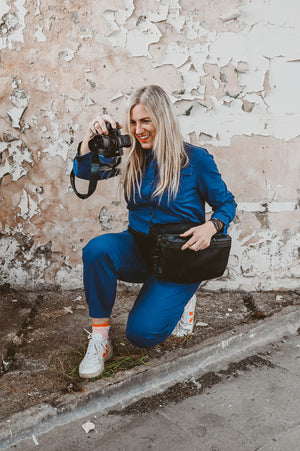 Creating solutions
for creative minds
What a bag!!!
I love my HUGE bumbag. I actually can't shoot without it. It's like a walking camera bag. I've everything I need with me all the time, extra lenses, a flash gun & my phone, snacks, hand gel. It's so useful to take with me on every shoot. And great to pop other people's unwanted phones in when they have forgotten to take them out of their pockets! I need to get the silver just so I have that in my life too!! Xx great company, customer service and such a useful product for working photographers.
The Betty Bag
I purchased my Betty bag last week. I've used it for a few outdoor sessions and love it. It's so hand to have all your camera gear around your wasit!
I was able to quickly access my phone, camera lenses and other bits so easily.
I would highly recommend getting one!
Love the bag so much this is my 2nd time purchasing it!
I had the Betty bag in black and I've found it do useful and practical for my photographic needs. my shoulders and neck don't hurt because I wear it around my waist. I treated myself to the silver bag this time so now I can rotate them :)
The BEST camera bumbags in the land!
The Betty Bumbag is insanely good. It sits perfectly on the hips, enables you to be swift at weddings and you can grab kit so quickly compared to a rucksack. It looks so trendy but at the same time robust. I wish I'd had it when I first became a photographer. Essential bit of kit!
Love this bag
It's the absolutely perfect accessory for photography. This makes my job so much easier and SO much prettier!